Digital Air Strike recently released the findings from its sixth annual Automotive Social Media Trends Study. Findings from the social media and digital engagement company were hardly surprising, but still noteworthy. Most of the trends revealed by the study highlight the importance of social marketing and online reputation management.
The study focused on consumer behaviors on social networks, review websites, and mobile devices related to car shopping and service. Digital Air Strike questioned 2,000 car buyers and 2,000 service customers who had purchased or serviced a vehicle in the past six months for the study.
The company also said the data has an even distribution across age and gender groups. The study covers all major U.S. geographic regions as well.
Automotive Social Media Trends Study Results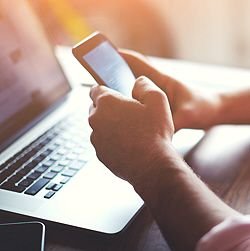 The study found that sales and service customers are increasingly relying on online research.
79% of car buyers (up from 75% last year) and 68% of service customers said the internet, including social media sites, was the most helpful information source when researching auto dealerships.
And that includes doing so on mobile devices.
68% of sales and 51% of service customers said they used a mobile device to research and evaluate dealerships.
Among 18-34 year olds, those numbers skyrocket to 86% and 78%, respectively.
The results also indicate that reviews and star ratings matter more than ever.
87% of car buyers said they used online review sites to help them select a dealership. That's up from 81% in the prior year.
90% of service customers surveyed said the same thing, which was up from 83% last year.
Meanwhile, 68% of car buyers and 64% of service customers said they'll check out review site star ratings even if they don't click through to actually read any reviews.
Car buyers also ranked Cars.com and Kelley Blue Book as the most helpful review sites. Those were followed by Edmunds, Autotrader, Google+, Yelp, Facebook and CarGurus.
Finally, it seems as if consumer interest and awareness in social media advertising is on the rise.
77% of car shoppers/owners who have seen a Facebook ad say they have clicked on it. That number is up from 66% in the prior year.
Among those who use Twitter, 44% of sales customers and 47% of service customers "follow" a dealership to get access to offers and discounts.
Creating social-specific offers and discounts? That sounds like a great way to increase your dealership's social presence and consumer engagement.
Solutions
The Automotive Social Media Trends Study reaffirms what we've already known for a long time. It's important to maintain a web and social media presence that is appealing to consumers and mobile-friendly. And, as the study indicates, this concept is only going to become more important over time.
Social media and digital engagement solutions are one way to build your business. Another is teaming up with Auto Credit Express. We offer industry-leading products and services that your store can use to boost its bottom line.
To learn more about what we can offer your dealership, give us a call at 888-535-2277. Or, you can fill out our convenient contact form online and we'll get in touch with you.